Detangling Spray (500 ml)
SKU: PCH-013
Make grooming a pleasure. Banish the pain of pulled hair and leave fur tangle free
Spend 50% less time brushing
Minimise the stress of dog brushing with our naturally derived, hypoallergenic detangler spray. Just spray on and leave in to condition the coat, repel dirt and add shine.
Natural plant based ingredients loved by professional groomers
This premium formulation contains powerful conditioning proteins to de-tangle fur and loosen knots while restoring your dog's coat natural lustre (contains no alcohol or parabens).
Sensitive, gentle and safe
Perfect for dogs with dermatitis or other skin conditions. Helps reduce the amount of bathing required to keep their coat under control.
Ingredients (99% Natural)
This hypoallergenic formula contains nothing which will risk upsetting your dogs sensitive pH balance:
Aqua, Cetrimonium Chloride, Hydrolysed Wheat Protein, Tetrasodium Glutamate Diacetate, DMDM Hydantoin and Citric Acid.
Hypoallergenic
Alcohol free
Contains plant derived conditioning proteins
Coconut derived conditioning ingredients
Improves wet comb ability and eases grooming
Silicone Free
Reduces hair drag
Leaves fur tangle free
Suitable for all breeds
Reduces static and fly away
Helps improve the dogs comfort while being groomed
Delivery Information
Standard Delivery £2.99 via Royal Mail 2nd Class for orders under £20. (Free Standard Delivery for all orders over £20).
1st Class Delivery £3.99 via Royal Mail available for all orders.
All orders packed and dispatched directly from our warehouse, same day, if ordered before 2pm.
Returns Information
We offer a 30 day 100% Satisfaction Guarantee or your money back.
---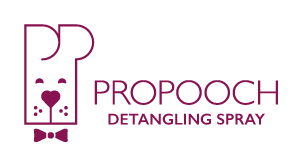 "We are absolutely over the moon with this product. I have been a professional groomer for over 22 years and this is now our go to product. We have one particuarly sensitive Pomeranian who comes in to be groomer and after using Pro Poochs Detangler she no longer runs away when we brush her".

Pam - Vale Dogs
Pro Pooch Detangling Spray can be used on wet or dry hair.
Wet hair
After shampooing, lightly mist the detangling spray over the dog fur, avoiding eyes, noses and ears. Gently unlock knots and tangles with a detangling brush suitable for the breed intended. No rinsing needed.
Dry hair
Spray directly onto dry fur in a light mist. Tease out knots and tangles working from the ends to the roots. No rinsing necessary.
Like going to the Groomers
Used this on my long, fluffy coated chorkie who gets very tangled and was very happy with the results. It made her hair soft and manageable and left smelling lovely. Just like she's been to the groomers. Would recommend
Detangling spray
Great product, great service. Spray smells lovely. Made my cockers tangles much easier to comb out.
Detangling Spray
Used this spray on my dog's coat and especially her tail and I can definitely see a difference in the condition. Also made brushing easier too!
Detangler
Arrived quick and seems to help on my Newfoundlands
Pro Pooch Detangler
I've used this a few times on dogs I groom and found it really does help to remove knots.ive tried quite a few but this is the best I've used.
What people are saying
Over the moon with Pro Pooch customer service from start to finish. The Ear Cleaner we purchased has worked within a week after spending £££ on other treatments to no avail. I felt truly looked after. Well done!

Jane

Finally I have found some grooming products for my beloved dogs where the ingredients are not just an afterthought but the focus of the whole company.

Saanvi

Your oatmeal shampoo, Its not cheap but my goodness it has stopped Kato's itching after just a few weeks. I was sold by the products natural claims but the real benefit to me is how soft and supple his skin is after bathing. Most pleased.

Jan

I was cleaning with boiled salty water for a week to no avail. I have used these drops 3 times now over 2 days after cleaning and bingo the improvement is astounding. Thank you pro pooch I am amazed by this product.

Sam