Dog Eye Drops (250 ml)
SKU: PCH-007
✔ Pro Pooch Dog Eye Drops are anti-fungal and anti-bacterial. They are scientifically formulated for flushing and cleaning irritations to the eye.
✔ Use for cleaning eyes affected by soreness, itching, allergens and contaminants. Can be used 3-4 times daily or as directed by your veterinarian.
✔ Combats conjunctivitis caused by foreign bodies and allergies.
✔ Huge 250 ml bottle, best value per ml compared to other leading brands.
✔ Produced in the UK Under GMP Veterinary Medicines Manufacturing Licence.
---
Combats conjunctivitis caused by foreign bodies and allergies as well as bloodshot, irritated, runny, sore, dry eyes & eyelids.
---
Why Buy From Us
Pro Pooch are a UK based company, who produce and manufacture health supplies and grooming products, just for dogs. Our veterinary experts, chemists and groomers are obsessed about everything canine, which is why we are proud to produce some of the best products available.
A customer-centred shopping experience has always been our goal and we pride ourselves in our comprehensive policies that have put us in a realm above and beyond our competitors. Shop with us today and see the Pro Pooch difference.
Here are a few of the many reasons to shop with us:
Secure ordering online
Lowest pricing available online
Small batch manufacturing runs to ensure quality, traceability and freshness
Courteous, knowledgeable and friendly support
Thousands of satisfied customers
100% satisfaction guarantee
All items in stock and ready to ship
Delivery Information
Standard Delivery £2.99 via Royal Mail 2nd Class for orders under £20.
(Free Standard Delivery for all order over £20)
1st Class Delivery £3.99 via Royal Mail available for all orders.
All orders packed and dispatched directly from our warehouse, same day, if ordered before 2pm.
Returns Information
We offer a 30 day 100% Satisfaction Guarantee or your money back.
How and when should this product be used?
Pro Pooch Eye Drops are anti-fungal and anti-bacterial designed to flush out dirt and debris and soothe irritated eyes. If you suspect serious eye issues, please contact your veterinarian. This product is not an alternative to seeking veterinary advice.
How do I use the product and how much should I use?
Instructions on administering the eye drops can be found on the side of the bottle and additional informaiton in the e-book (see last question). Only a small amount of solution is required, administer 3-4 drops per eye. Wipe excess liquid away with a cotton pad. Use a new cotton pad on each eye to avoid re-contamination.  
What is the shelf life?
The product can be used up until its use by date when stored correctly. See label for Use By date and for storage instructions.
How safe is this product?
All Pro Pooch products are formulated with safety and effectiveness in mind. Pro Pooch use manufacturers based in the UK that hold a GMP Veterinary Medicines Manufacturing Licence. The product contains a common list of ingredients which have been in use for decades, are widely researched and understood. Therefore the nature of the composition of this product makes it an extremely low risk product.
Where can i find my e-book?
You will have received an email after purchase with your e-book attached. Check the spam, sometimes it ends up there! If you still can't find it, head to https://propooch.com/e-book-eyes
Pro Pooch Dog Eye Drops are a specially formulated opthalmic solution which will eradicate these persistent problems.
Conjunctivitis caused by allergies and foreign bodies,
Bloodshot, irritated, runny, sore, dry eyes & eyelids.
---
Buy more than one Pro Pooch Eye Drops and save up to 30%
Buy more than one bottle of Pro Pooch Eye Drops and save up to 25%.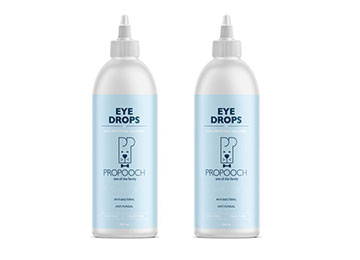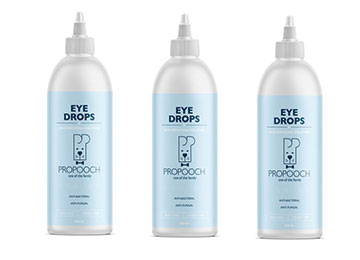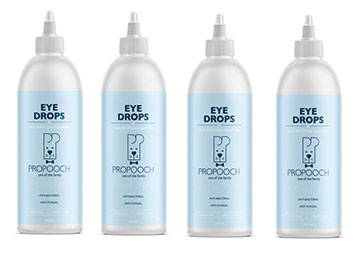 eye drops
my little dog has dry eye the vet advised treatment at £67 per month I foyund pro pooch thank goodness I bought eye drops which do the trick and keep the eye open thank yo so much
Sparkling eyes!
My dog suddenly was suffering from a very watery eye with green/yellow discharge. I thought "oh no a costly trip to the vet...". I then found this product online. Whilst awaiting delivery (which was quick) I started bathing her eye with boiled salt water several times a day. To be fair, by the time it had arrived her eye was much improved. However, I have continued with the eye drops and her eye was back to normal within another day or two. I've continued to use it daily to clean her eyes and she's more than happy to have it done- almost as if it soothes her eyes. It's amazing she doesn't run away, just waits for me to clean them as though she enjoys it! Brilliant result and great size bottle- I'm going to try the ear cleaner next!
Eye Drops
Great value for money compared to vets. Helped reduce my Greyhounds itchy eyes but not the redness. Lucy very helpful.
Great Product
Great product, used on gooy eye which had been bad for a couple of weeks. Used on cocker spaniel whonhad most likely got something stuck in his eye. After a few goes with the kit it seemeed to flush more goo on on the first few attempts untill a few days later when everything was clear and back to normal. The product was easily applied and was even possibly soothing as he took to it straight away.
WOW Very Impressed..
Arrived very quickly (which is always a bonus). Partner bought it back to France where I am currently with our 2 dogs. Benji (my Golden Retriever) is a big 10 year old baby & hates the vets & the car that takes him there. Has had a runny, slightly bloodshot & itchy eye for about 2 weeks Have been using for 4 days and can already notice the difference. Will keep using as his eye is still a little runny but he no longers tries to rub it. Great product, very happy. Thankyou ;o)
What people are saying
Over the moon with Pro Pooch customer service from start to finish. The Ear Cleaner we purchased has worked within a week after spending £££ on other treatments to no avail. I felt truly looked after. Well done!

Jane

Finally I have found some grooming products for my beloved dogs where the ingredients are not just an afterthought but the focus of the whole company.

Saanvi

Your oatmeal shampoo, Its not cheap but my goodness it has stopped Kato's itching after just a few weeks. I was sold by the products natural claims but the real benefit to me is how soft and supple his skin is after bathing. Most pleased.

Jan

I was cleaning with boiled salty water for a week to no avail. I have used these drops 3 times now over 2 days after cleaning and bingo the improvement is astounding. Thank you pro pooch I am amazed by this product.

Sam