Dog Ear Cleaner (250 ml)
SKU: PCH-001
Pro Pooch Dog Ear Cleaner
✔ Pro Pooch Dog Ear Cleaner has a neutral pH and is scientifically formulated to clean both healthy and infected ears and maintain them in good condition.
✔ Safe & Gentle. To be used twice daily for 3 days then once per week or as directed by your veterinarian for the removal of wax and debris.
✔ BRC Certified Manufacturer . Pro Pooch are a Trusted UK Brand Who Invest In The Latest Quality Ingredients and The Best Manufacturing Processes To Produce Safe, Effective Products.
✔ Large 250ml bottle provides best value per money per ml compared to other leading brands.
---
Made From 100% Naturally Derived Ingredients. Non Toxic & Safe, FREE FROM Alcohol, Parabens, Silicones, SLES, SLS, DEA and Enzymes.
---
Why Buy From Us
Pro Pooch are a UK based company, who produce and manufacture health supplies and grooming products, just for dogs. Our veterinary experts, chemists and groomers are obsessed about everything canine, which is why we are proud to produce some of the best products available.
A customer-centred shopping experience has always been our goal and we pride ourselves in our comprehensive policies that have put us in a realm above and beyond our competitors. Shop with us today and see the Pro Pooch difference.
Here are a few of the many reasons to shop with us:
Secure ordering online
Lowest pricing available online
Small batch manufacturing runs to ensure quality, traceability and freshness
Courteous, knowledgeable and friendly support
Thousands of satisfied customers
100% satisfaction guarantee
All items in stock and ready to ship
Delivery Information
Standard Delivery £2.99 via Royal Mail 2nd Class for orders under £20.
(Free Standard Delivery for all order over £20)
1st Class Delivery £3.99 via Royal Mail available for all orders.
All orders packed and dispatched directly from our warehouse, same day, if ordered before 2pm.
Returns Information
We offer a 30 day 100% Satisfaction Guarantee or your money back.
How and when should this product be used?
Pro Pooch Ear Cleaner is designed to flush out wax, dirt, debris and discharge from the ear canal. It is to be used as part of a regular ear care routine. We recommend using twice daily for 3 days and then once a week for ongoing maintenance. If you suspect infection, please contact your veterinarian. This product is not an alternative to seeking veterinary advice.
How do I use the product and how much should I use?
Instructions on administering the ear cleaner can be found in the e-book (see last question). Only a small amount of solution is required, administer enough that the liquid is just visble inside the ear canal.  
What is the shelf life?
The product can be used for 2 years from opening as long as it is stored correctly. See label for storage instructions.
How safe is this product?
All Pro Pooch products are formulated with safety and effectiveness in mind. Pro Pooch use manufacturers based in the UK that are BRC Certified. This product meets the requirements of the human cosmetics directives and there is nothing in the ingredients list which present a risk to human or animal health.
Where can i find my e-book?
You will have received an email after purchase with your e-book attached. Check the spam, sometimes it ends up there! If you still can't find it, head to https://propooch.com/e-book-ears
Ear Buds Warning
Only use ear buds on outer ears, DO NOT insert into ear canal. Ear buds not suitable for small dogs under 7kg.
Pro Pooch Dog Ear Cleaner is a specially formulated ear cleaning solution which will eradicate these persistent problems.
Excessive Head Shaking, Sore Ears, Persistent Scratching, Waxy Ears , Itchy Ears, Ear Odour.
Use as part of a regular maintenance routine to help prevent mites, infection and debris buildup.
---
Buy more than one bottle of Pro Pooch Ear Cleaner and save up to 25%.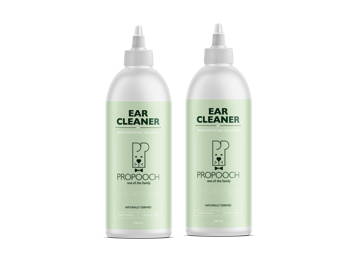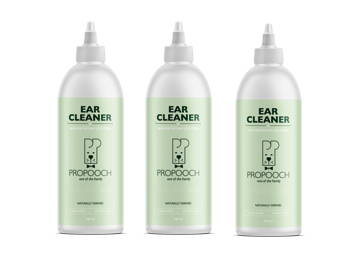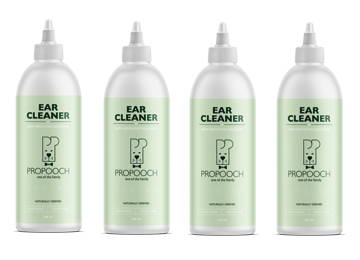 Pro Pooch Ear Cleaner
Tested it on Snoop-Dawg after he had finished his course of antibiotics for his ear infection and so far I am very impressed. His ears have never been cleaner and I have never been happier with it. I am hoping it will save on vet bills as every winter he ends up with an ear infection.
Great
i have used the ear cleaner on my dog for the last year What a great product ,My poor dog had sufferd for 2 years she was on antibiotics/steroids every couple of months.For the past year she has not been to the vet once with ear problems 100% better using this GREAT product
Ear cleaner
This product is fantastic. My chocolate Labrador has bad ears and this has worked wonders. Thank you so much it's saved me loads in vets bills
Ear cleaner
Working really well on a Dalmatian ear, that had many infections.
What people are saying
Over the moon with Pro Pooch customer service from start to finish. The Ear Cleaner we purchased has worked within a week after spending £££ on other treatments to no avail. I felt truly looked after. Well done!

Jane

Finally I have found some grooming products for my beloved dogs where the ingredients are not just an afterthought but the focus of the whole company.

Saanvi

Your oatmeal shampoo, Its not cheap but my goodness it has stopped Kato's itching after just a few weeks. I was sold by the products natural claims but the real benefit to me is how soft and supple his skin is after bathing. Most pleased.

Jan

I was cleaning with boiled salty water for a week to no avail. I have used these drops 3 times now over 2 days after cleaning and bingo the improvement is astounding. Thank you pro pooch I am amazed by this product.

Sam