Oatmeal Itchy Dog Shampoo (500 ml)
SKU: PCH-008
Pro Pooch Oatmeal Dog Shampoo (500 ml)
A Colloidal Oatmeal Shampoo professionally formulated for dogs with itches, allergies, sensitive & dry skin.
✔ Hypoallergenic, fragrance free, anti itch shampoo formulated for dogs with sensitive & dry skin and designed to stop scratching.
✔ Voted Top 5 Shampoo In Dogs Monthly.  Contains Colloidal Oatmeal, Pro Vitamin B5, Aloe Vera & Wheat Proteins which rehydrate and nourish your dogs coat.
✔ One of the only products available in the UK which is FREE FROM Soap, Alcohol, Parabens, Silicones, SLES, SLS, DEA and Enzymes.
✔ 33:1 Dilution Ration. This 500ml bottle is equivalent of 16.5 litres of normal shampoo.
---
There is nothing in this shampoo which will risk upsetting your dogs sensitive skin. Try this before spending money on a medicated dog shampoo.
 
---
See what our customers have to say about how their dogs skin condition has improved through continued use of this product.
Milly & Katy love:

✔The fact that the Colloidal Oatmeal has helped stop their scratching.
✔The fact that they are left looking and smelling great without a hint of chemical smell thanks to that amazing natural ingredients in this shampoo.
 
Elsa & Oscar love:
✔How easily the hydrolized wheat proteins absorb into their skin helping to retiain moisture and reduce dryness and itching.
✔The aloe vera in the shampoo has helped to calm their allergies after long walks in the grass.
---
Pro Pooch Itchy Skin Balm (100 ml)
✔ SOOTHES, NOURISHES & PROTECTS - Safely moisturises your dogs dry itchy skin with our 100% natural non-toxic & lick safe, scientifically developed anti itch balm.
✔ ANTIBACTERIAL, ANTIFUNGAL & ANTIINFLAMATORY INGREDIENTS - A gentle topical treatment that encourages natural healing. Suitable for folds / wrinkles, irritated or allergy inflamed skin.
✔ MULTIPLE APPLICATIONS - Use for cuts, scrapes, rashes, irritations, hot spots, flaky skin, allergy symptoms, bug bites, eczema and dermatitis.
✔WATERLESS FORMULA - No mess, no spills and no waste. A rich and concentrated 100 ml pot containing carefully selected ingredients. FREE FROM SLES, SLS, DEA, SILICONES, PARABENS, ALCOHOL, ENZYMES.
New Product Launch Price: £8.99 While Stocks Last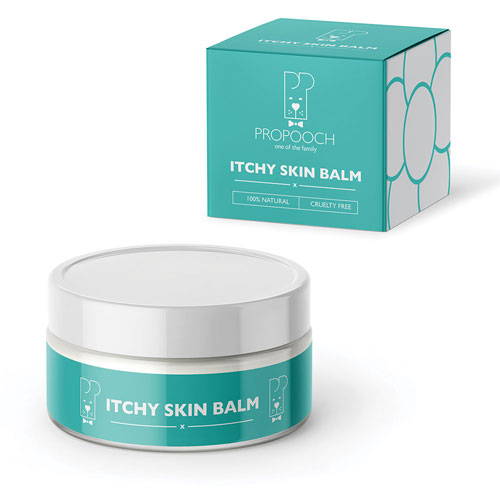 ---
Symptoms
Pro Pooch Anti Itch Shampoo will enhance the coat of any dog we guarantee.
However, the ingredients in this products are ideal for dogs suffering with:
Dermatitis, pruritus, eczema, yeast infections, dry skin, flaky skin, dandruff, allergies, hot spots, mange, mite, tick, flea and insect bites.
---
Why Buy From Us
Pro Pooch are a UK based company, who produce and manufacture health supplies and grooming products, just for dogs. Our veterinary experts, chemists and groomers are obsessed about everything canine, which is why we are proud to produce some of the best products available.
A customer-centred shopping experience has always been our goal and we pride ourselves in our comprehensive policies that have put us in a realm above and beyond our competitors. Shop with us today and see the Pro Pooch difference.
Here are a few of the many reasons to shop with us:
Secure ordering online
Lowest pricing available online
Small batch manufacturing runs to ensure quality, traceability and freshness
Courteous, knowledgeable and friendly support
Thousands of satisfied customers
100% satisfaction guarantee
All items in stock and ready to ship
Delivery Information
Standard Delivery £2.99 via Royal Mail 2nd Class for orders under £20.
(Free Standard Delivery for all order over £20)
1st Class Delivery £3.99 via Royal Mail available for all orders.
All orders packed and dispatched directly from our warehouse, same day, if ordered before 2pm.
Returns Information
We offer a 30 day 100% Satisfaction Guarantee or your money back.
Further Information
What is the difference between this and the £1 bottle in the supermarket.
Cheaper shampoos contain a lot chemicals and synthetics. They strip the natural oils from your skin. Ever felt how dry and devoid of moisture your hands feel after using cheap soap? Cheap dog shampoo has the same effect.
Pro Pooch's shampoo is very very different. It uses, literally the best ingredients money can buy when it comes to improving the condition of your dogs skin. Natural ingredients like Colloidal Oatmeal, Pro Vitamin B5, Aloe Vera & Wheat Proteins all contribute to the retention of moisture and a strong healthy coat and skin.
We guarantee you will notice the difference after just one wash.
Can I use this even if my dog is not itchy?
Pro Pooch Anti Itch Shampoo has been specifically designed for dogs with skin conditions, however, it is suitable for any dog because the quality ingredients and essential oils in this product will only serve to enhance the condition of their coat.
What is a dilution ratio?
This shampoo has a 33:1 dilution ratio, which means it can be diluted with water at a ratio of 33:1 (20 ml of shampoo to 660 ml of water). This makes the product easier to apply to and very economical.
A 500 ml bottle is the equivalent of 16.5 litres of standard shampoo which will last a very long time.
Because of the superior dilution ratio, per millilitre it's no more expensive than a supermarket own brand shampoo.
Can the shampoo be applied neat, directly from the bottle?
Yes, but it will go on much easier, diluted with water and will last a lot longer.
Suitable for all ages and breeds?
Yes, this shampoo is perfect for even the most sensitive of dogs and pups.
---
Purchase more than one bottle of Pro Pooch Oatmeal Dog Shampoo and save up to 20% on RRP.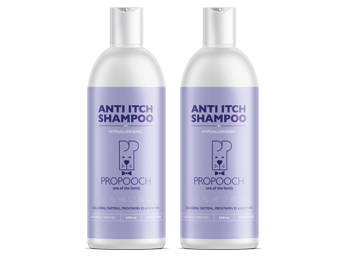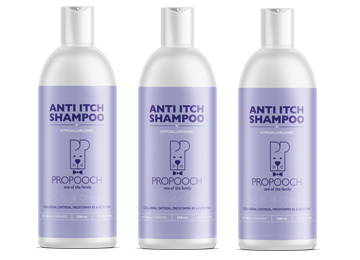 ---
Happy Dog and owner
Gorgeous shampoo, it certainly had a test on Roxy, my Westie she was covered in muddy clay after walking on the forest. It took three baths of clean water and a final shower with her new shampoo, but she came out sparkling soft clean and not scratching. Fab result. Linda from Crowborough.
Works perfectly
After trying various shampoos/sprays etc that claimed to stop or not cause itching,Finally a quality product that actually works and works perfectly.
Our goldendoodle scratched and itched all the time to the point of pulling out his fur (very disturbing to see him so irritated ) After the 1st wash he only
Scratched occasionally and then after the second wash no itching, no scratching, his skin actually feels cooler and looks healthier. Wonderful product.
Also amazing very good value for money as it so concentrated and you dilute it down, which also makes it easy to wash/rinse with.
One very happy pooch now (apart from having to have a bath of course )
Happy Pooch
Delivery very quick shampoo seems to help with the itch and.
Great products
All items from Pro Pooch are fantastic. I now use several of their products.
very impressed
Delivery was speedy and communication was good. I have a white A.bull dog that has allergies to lots of things. First time this shampoo has been used and I am impressed. He smells clean.. really clean! but not perfumed, he has hardly gone pink at all around his chops and he normally looks red for days after a hair wash. There has been no scratching at all and his coat feels amazing! I am going to buy more from the range now that I have done a tester on the products. Thank you PROPOOCH Frank is a happy dog!
What people are saying
Over the moon with Pro Pooch customer service from start to finish. The Ear Cleaner we purchased has worked within a week after spending £££ on other treatments to no avail. I felt truly looked after. Well done!

Jane

Finally I have found some grooming products for my beloved dogs where the ingredients are not just an afterthought but the focus of the whole company.

Saanvi

Your oatmeal shampoo, Its not cheap but my goodness it has stopped Kato's itching after just a few weeks. I was sold by the products natural claims but the real benefit to me is how soft and supple his skin is after bathing. Most pleased.

Jan

I was cleaning with boiled salty water for a week to no avail. I have used these drops 3 times now over 2 days after cleaning and bingo the improvement is astounding. Thank you pro pooch I am amazed by this product.

Sam