Tear Stain Remover (250 ml)
SKU: PCH-002
Pro Pooch Tear Stain Remover
✔Fast Acting, Fragrance Free, Non Irritating Formula For Your Dog Using Safe Effective Naturally Derived Ingredients. Made in the UK.
✔With Regular and Consistent Use Remove Tear Build Up and Crusting To Bring Your Pets Eyes Back To Their Sparkly Best
✔Our Key Active Ingredient Is a Safe, Natural, Biodegradable, Non-Ionic Surfactant Which Cuts Through Saliva Build Up and Mucus Discharge
✔250ML of product. Way More Than Most Competitors. Also Includes 10 Large Eye Wipes and An E-Book To Safely Guide You Through The Eye Cleaning Process
✔Vet Recommended and groomer approved!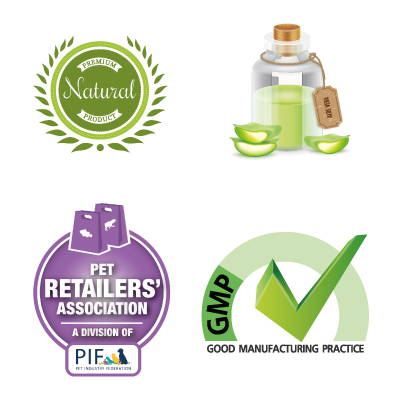 ---
A naturally derived product which gently removes eye residue and prevents stains. Contains no harmful chemicals.
---
Why Buy From Us
Pro Pooch are a UK based company, who produce and manufacture health supplies and grooming products, just for dogs. Our veterinary experts, chemists and groomers are obsessed about everything canine, which is why we are proud to produce some of the best products available.
A customer-centred shopping experience has always been our goal and we pride ourselves in our comprehensive policies that have put us in a realm above and beyond our competitors. Shop with us today and see the Pro Pooch difference.
Here are a few of the many reasons to shop with us:
Secure ordering online
Lowest pricing available online
Small batch manufacturing runs to ensure quality, traceability and freshness
Courteous, knowledgeable and friendly support
Thousands of satisfied customers
100% satisfaction guarantee
All items in stock and ready to ship
Delivery Information
Standard Delivery £2.99 via Royal Mail 2nd Class for orders under £20.
(Free Standard Delivery for all order over £20)
1st Class Delivery £3.99 via Royal Mail available for all orders.
All orders packed and dispatched directly from our warehouse, same day, if ordered before 2pm.
Returns Information
We offer a 30 day 100% Satisfaction Guarantee or your money back.
How and when should this product be used?
Pour approximately 10ml of Tear Stain Solution onto a cotton pad and gently rub the affected area (taking care to avoid direct contact with the eye) for around 30-40 seconds until the fur is damp and the stains start to rub off onto the cotton pad.
Use daily as specified above. Use when your dog is relaxed and calm, use treats to reward them for sitting still for the process.
What is the shelf life of the product?
The product should be used within 2 years of opening as long as it is stored correctly. See the label for storage instructions.
How safe is the product?
All Pro Pooch products are formulated with safety and effectiveness in mind. Pro Pooch use manufacturers that are based in the UK and are BRC certified. This product meets the requirements of the human cosmetics directives and there is nothing in the ingredients list which presents any risk to human or animal health.
How long should I expect to use the product to see results?
The time taken to see results will vary. Very old, set in tear stains may need to be cut out over time. This product gently removes some of the tear stains, and will then prevent future staining altogether once old stains have grown out.
Our gentle plant derived formula is designed for dogs that:
Have Eye Tear Build Up and Crusting

Suffer from Sensitive / Irritated Eye Area

Have Allergies Or Super Sensitive Skin
---
Buy more than one bottle of Pro Pooch Tear Stain Remover and save up to 20%.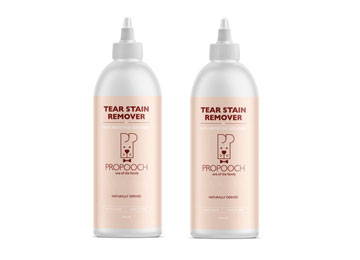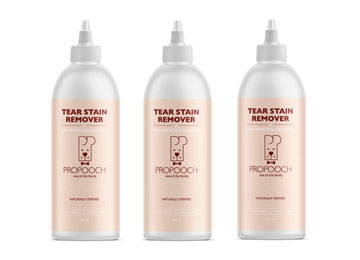 Red stain remover
Cannot sees dramatic difference after using this product
Excellent stain cleaner
I've tried it before on heavy stains It does not work on the heavy stains but if you use it daily before they are heavy it keeps your dogs face white
Works a treat
On a black poodle this works a treat to get rid of the clumpy, hard residue they get from their eyes. Softens the crustiness enabling it to be removed easier and without pain.
Very kind to the eyes and eye area. A must for all dog owners but more so for the poodles!
What people are saying
Over the moon with Pro Pooch customer service from start to finish. The Ear Cleaner we purchased has worked within a week after spending £££ on other treatments to no avail. I felt truly looked after. Well done!

Jane

Finally I have found some grooming products for my beloved dogs where the ingredients are not just an afterthought but the focus of the whole company.

Saanvi

Your oatmeal shampoo, Its not cheap but my goodness it has stopped Kato's itching after just a few weeks. I was sold by the products natural claims but the real benefit to me is how soft and supple his skin is after bathing. Most pleased.

Jan

I was cleaning with boiled salty water for a week to no avail. I have used these drops 3 times now over 2 days after cleaning and bingo the improvement is astounding. Thank you pro pooch I am amazed by this product.

Sam